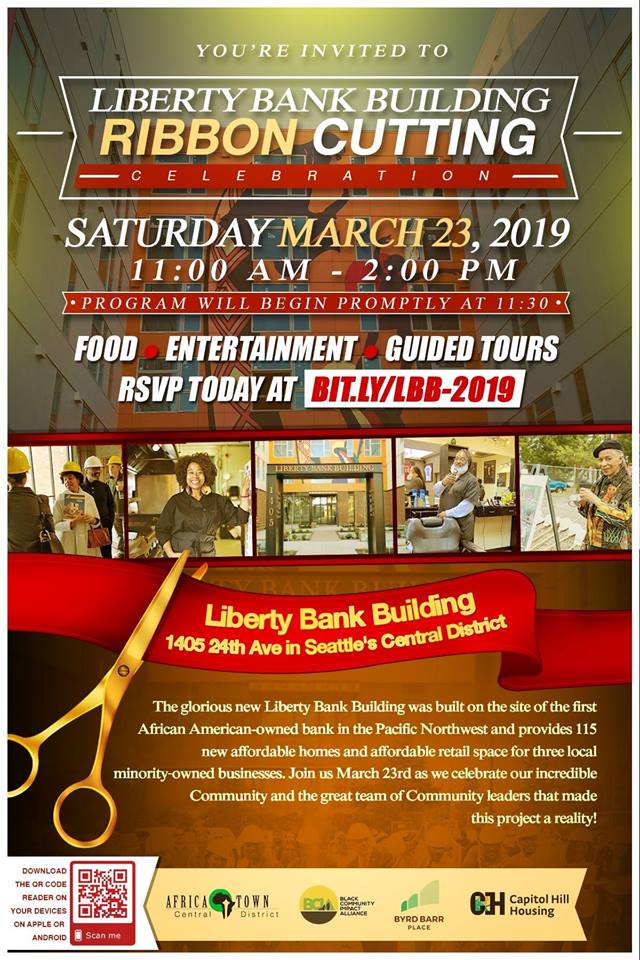 1405 24th Avenue (24th & Union)
Africatown Community Land Trust, the Black Community Impact Alliance, Byrd Barr Place, and Capitol Hill Housing invite the community to celebrate with us as we open the historic Liberty Bank Building on Saturday March 23, 2019.
RSVP at http://bit.ly/LBB-2019.
This glorious new building, built on the site of the first African American-owned bank in the Pacific Northwest, provides 115 new affordable homes, and affordable retail space for three local minority-owned businesses. The Liberty Bank Building was created through the dedication and support of many community members and organizations with deep roots in Seattle's Central District. The celebration will reflect our community by bringing together the neighbors, friends, artists, business owners and community leaders who have contributed to the success of this momentous project.
Speakers and performers from the community begin a brief program promptly at 11:30.
With live music and performances, and food for all attendees.
Guided tours of the Liberty Bank Building will take place in the last hour of the event. Limited slots available, see RSVP website for sign-up details.
Photo credit: flyer design by Jockquess Leven of S.K. Studios Graphics & Designs 2019.